Guide To Lend Money Legally For High Interest In India
When banks turn a blind eye to a potential borrower's loan requirements or when money is needed urgently, that is when private money-lenders come into the picture fulfilling such urgent requirements. Some people also prefer private money-lenders because they don't want to get into the cumbersome documentation procedures of banks and NBFCs. Besides, there is a trust factor associated with private money-lenders if people have been borrowing from them regularly.
This is where money lending from Private investors comes in. It generally involves lending money to borrowers at a comparatively higher interest rate over a short period of time. Money-lenders are none other than the general investors or companies whose primary motive is to lend money at a high rate of interest to get decent returns.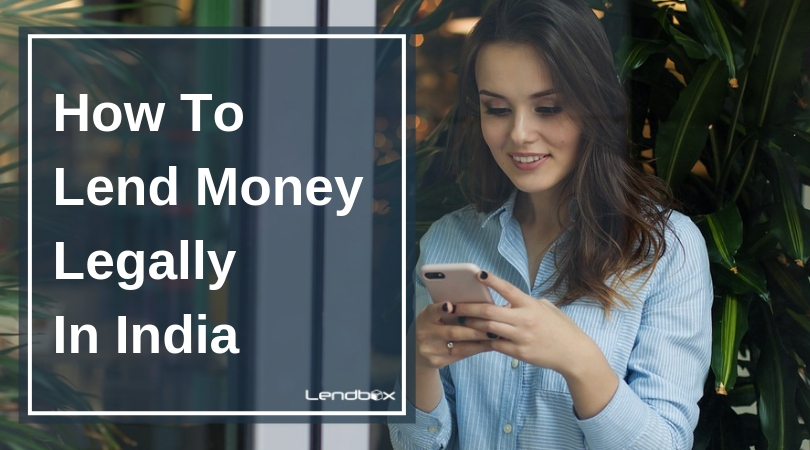 Money Lending Guide And Interest Rates
Money lending interest rates are generally higher and vary from 15% -36%. Also, there are various types of money lenders depending on factors like:
Loan amount: The amount of loan that one needs influences the type of money lender. In case of larger loans, one might need a combination of several lenders.
Loan Purpose: Getting a business loan can be really tough for some early stage startups. Such entities can benefit from non-traditional methods of money lending.
Loan term: If one is looking out for short tenure loan then they need to look out for lenders who lend money for short terms other than those who lends long term loans for lands and buildings.
What are the different types of money lenders?
Well, today one can look out for various types of lenders according to their requirement. Let's have a look at some of them:
P2P or Peer-To-Peer lenders
P2P lending is done via various online platforms like Lendbox and the money is borrowed from various individuals who function as investors. P2P lending is a completely legal process with various regulated by the RBI - ensuring protection of interests of both - borrowers and lenders.
Crowfunding
It is done via various online organizations. The key feature of this type of funding is that they don't come with interest payments.
Friends and family
Money is borrowed from the borrower's family and friends. A formal loan agreement may or may not be created.
Key Money Lending Rules In India
There are certain regulations that one needs to follow especially in case of P2P lending. Let's have a look at some of the basic regulations:
The accumulated exposure of a lender to all the borrowers across all the P2P platforms at a time shall be limited to Rs. 10 lakh.
The exposure of a lender to the same borrower shall not exceed Rs. 50,000 across all the platforms of P2P.
The loan maturity time cannot be more than 36 months.
All fund transfers between lender and borrower and vice versa has to be via bank accounts and any mode of cash transactions are strictly prohibited.
So, before lending and also borrowing funds via P2P one needs to obey each and every regulation as stated above for legal investments and borrowing.
Here's Why You Should Lend Money With P2P Lending
P2P lending also known as Peer-To-Peer Lending is a financial innovation that allows verified borrowers to seek for unsecured personal loans from various investors who want to earn higher interest return from their investments. The verified borrowers are listed on various P2P lending platforms from where the investors can have a look at the profiles of the borrowers before lending the loan amount to them.
Investors have the choice to lend small amount to several borrowers in order to properly diversify their hard earned investments. P2P Lending is gaining huge success rate in India and has also become an attractive investment platform for the investors. RBI has also given cognizance on this financial innovation and has come with various regulations for easy and safe business of investment.
When it comes to a well known and perfect platform for P2P lending, Lendbox is the platform that always comes up at the top. Lendbox is a lending marketplace where several investors and borrowers meet and connect for bilateral and safe transactions. It is a great option for striking wealthy deals between the lender and the borrower and not only that but it also helps in the repayment of the loan.
Both the borrower and lender are allowed to send several proposals to each other along with information required from the side of the borrower. The lender can easily reject, accept or re-negotiate the offer. After the acceptance of offer, both the parties sign for a formal contract with the loan amount and interest rate mentioned and the money is the transferred to the borrower's bank account.
Benefits of lending money with Lendbox
P2P lending allows borrowers to directly lend money from the investors without any middleman between them. It also comes with several benefits like:
However, the fluctuations in the market might affect the return directly so a little factor of risk is associated with this investment scheme. Still, a rise in the market will subject to a greater capital gain in your equity shares.
Lenders like to know that to whom they are lending their money to. With P2P lending, the lender can enjoy getting each and every information about the borrower like reason of borrowing and the lender can choose to whom they will be lending money. It also gives them complete satisfaction by knowing that who can repay the money in real term with the interest.
The rate of return is fairly high when compared to other investments like mutual funds or FDs.
The borrower can easily fill in their information on any P2P platform and get approved of their loan amount within minutes which is not the case with other lending options like bank loans or institutional loans.
It allows lenders to spread their investment throughout various platforms at the same time.
It allows the lender the full freedom to choose whether to withdraw the returns or to reinvest them.
It provides the investors a source of passive income.
P2P lending has been growing in the last few years as an industry. Whether you are looking around for an place to invest your money or just want insurance from job loss or retirement, P2P lending is the best investment option today. P2P lending assures you of regular monthly returns and that too with 100% transparency in all entire process.
Interested in learning about p2p lending? Click here to register and our support executives will breifly explain it to you