Why Banks Reject Your Loan Application But Lendbox Doesn't
Forget Banks, Get Quickly Approved Loans through Lendbox
Many of us must have faced this problem at some point in our lives. You need money for some big expense like renovating a house, a wedding or some medical emergency. You approach your bank for a loan and submit all the possible papers, only to be told after many days of waiting that your application has been rejected. You are at your wit's end and scratching your head in despair, blissfully unaware that peer to peer lending (P2P) major Lendbox is here for you in your time of need and ready to bail you out.
Banks often refuse loans on dubious grounds and theoretical underwriting models. And that gives all the more reasons to resort to P2P lending platforms. Let's find out why banks refuse loans and how Lendbox is always a better choice when you need a loan.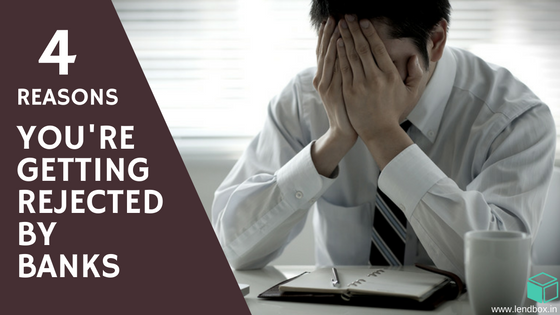 Here Are 4 Major Reasons You're Getting Rejected By Banks
Poor Credit History
Banks will highlight and judge your credit unworthiness by citing CIBIL or other credit bureau scores. Maybe your credit card dues have accumulated or you briefly defaulted on payments. They often add insurance premiums and telephone bills to the list. Now that's unreasonable. Missing a single loan repayment instalment also deteriorates your credit history greatly automatically making you a black sheep for the banks and someone they just don't want to give the loan to.
But with Lendbox, there are no such worries. They look at your full credit history and the reason for a "BAD" score as they say and also take into account many financial, traditional and non-traditional data points before accepting or rejecting your profile which gives a borrower a much higher chance of getting approved and getting a loan even with a bad credit score. You just have to specify the loan amount and there'll be several lenders ready to help you. You can negotiate the best repayments rates with each individual lender bringing your overall cost down.
Also Read: 7 Effective Ways To Improve CIBIL Score
Address on the defaulter list
Maybe your tenant has failed to pay his loan EMI or credit card outstanding. It'll be immediately reported to CIBIL. Now when you apply for a loan, your address is likely to show up as a defaulter, for no fault of yours. There can't be anything sillier than this.
Forget banks. Hop on to the Lendbox platform. Here, each prospective borrower is treated as an individual with no stupid conditions to turn down your application. You are treated as you are, not in the light of any third party.
Loan rejected before
Your loan application may have been rejected by banks before, without any logical reason. Maybe there was a minor mistake in the paperwork that could have been easily rectified, maybe you had just moved to a new city or just got a new job. But given the time it takes for files to move from one desk to another in our country, it's a huge deterrent for most prospective borrowers. You let it go. But unaware to you, it affected your credit score.
There's minimal paperwork involved with us and no need for those endless visits to the bank to inquire about the progress of your application. Approval is almost instantaneous on a P2P lending platform.
Co-applicant has a poor record
Your co-borrower must have a sound credit record whenever you approach a bank for a loan. If he/she has a poor credit card or loan repayment history, your application could be rejected. Your clean record may not be enough to bag the loan.
Cut to Lendbox. The online P2P lender isn't worried about your co-borrower's credit score. In fact, in many cases, it doesn't want a co-applicant at all. It's you who will borrow the money, and it's you who have to pay it off. It's that simple.
A simple approval system, lower rates of interest, and no big egos like traditional banks, have made P2P lenders like Lendbox increasingly popular among borrowers. You can learn more about Lendbox and peer to peer lending here or you can apply for a personal loan using the button below.
Liked this post, then make sure to share it with your friends and let them know about how banks are still depending on century old credit analysis for personal loans.