Get Rid Of Your Credit Card Debt Instantly With Lendbox
Pay off your credit card bills and debts with a single personal loan from Lendbox and repay with easy EMI's.
Debts can be annoying , frustrating or even depressing especially credit card debts. However, with some efforts, you can get rid of all these debts and achieve a healthy financial status. Learn more below.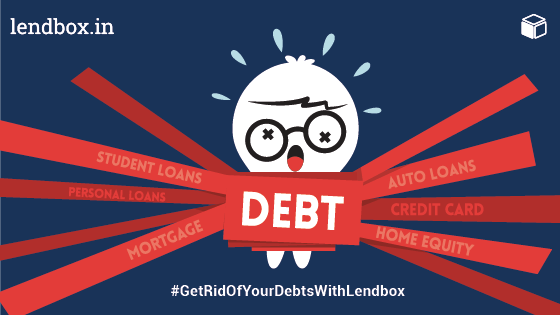 How often do you receive a call, an email or a SMS that you have preapproved offers for a new credit card? The major selling points to the client would be - No Annual fee, Better rewards, No Hidden charges, Free Add-on card, etc. You would not have heard anyone of them say that they are offering lower finance charges.
The most important feature of any credit card is the finance charges or you could call it the interest rate that is charged by them on your outstanding balance. Finance charges are monthly percentage interest rate and are calculated on average daily balance method for most of the cards in India.
These charges range from 3% to 4% pm i.e. an annualized percentage rate of 36% to 48% pa leading to an effective rate of interest of ~ 61% to 80%. These rates are phenomenally higher than the business and unsecured personal loan rates in India.
How to deal with a huge credit card balance
Let us now understand that if you have a huge credit card balance outstanding how you would deal with it.
Pen down all your outstanding debts with the rate of interest that you are paying for each. It is essential that you know the effective rate of interest that you are paying on different loans.
Prepare a list of all your statutory payments such as - utility bills, insurance premium, etc. and your variable expenses - necessity, comforts and luxury. We would not advice you to stop your bread and water but to keep a check on expenditure on comforts and luxury till the time you clear your credit card mess.
Stop using plastic money until you free yourself from its vicious circle of a credit card debt. Credit cards are a good tool to manage your funds till the time you clear your outstanding on or before the due date. If you are unable to clear it completely, that when you put your first step into the vicious debt trap of a credit card.
Strategize your plan.
Purely from a financial perspective, it would be make more sense to pay off your highest interest rate debt first as the card will cost you more over the long term.
Psychologically it would give you the sense of achievement if you repay your small outstanding balances earlier.
Another strategy that could be adopted is to consolidate all your debts. This can be done by taking a mortgage loan such as loan against property and loan against security (ROI of 10% to12%) or could avail an unsecured personal loan against your monthly net take home salary or your business financials (ROI 12% to 24%).
Consolidate your debt with Lendbox
Consolidation of debt would give you a clearer picture of your financial state of affairs in contrast to the other two methods. However, the biggest rudiment to it would be your poor credit rating because of credit card defaults i.e. your credit score would be lower than the standard set for by leading banks and non banking financial companies (NBFCs) refusing to lend to you.
With the advent of internet physical market place has been replaced by the virtual market place. "Peer to Peer lending" commonly known as P2P lending is steadily picking up market share in the financial circuit. Many otherwise unqualified borrowers can now borrow from the financial market place at a much cheaper and a hassle free method. Some of the key selling points of a P2P lending place are stated as below:
Depending upon how well you portray yourself to be an eligible borrower you could save more with low interest rate as low as 12%.
As this marketplace does not require any physical documentation of the borrower, this gives the borrower a faster turnaround time and a hassle free borrowing process.
Just as the matchmaking websites where the bride and the groom get to interact with and chat with each other, the borrower here gets to know who is investing in their determination to make the high interest rate loan debt free.
The traditional finance companies are quite skeptical of lending small amounts to individual borrowers and the risk of default becomes higher in smaller ticket size loans. In a P2P lending marketplace a borrower can avail a loans as low as Rs. 5000 to as high as Rs. 5,00,000 and that too without any collateral and hidden charges.
In conclusion, we would say that never get into the debt trap of a credit card; however if you're into it, repay it as soon as possible by an unsecured personal loan. The interest that you would be paying on this loan would be much lower than the loan on your credit card.
Share this post on Facebook and get chance to get 100% cashback on your processing fees.