Story of Sheroes : An inspiration to all aspiring women entrepreneurs
Lendbox's Pink Campaign is a small initiative by the team to celebrate Women's month and appreciate every women around us who has put in extra efforts to change the face of India and the world.
We interviewed Sairee Chahal, Founder and CEO of SHEROES to discuss about her journey in building such an amazing organization and work culture.
Here's a conversation between lendbox and the woman behind Sheroes-
Lendbox: Please tell us a bit about Sheroes, what does it aim to achieve and what is your long term goal for it?
Sairee: SHEROES community is over a million member strong. SHEROES is a platform centric model that helps connect businesses to women professionals. These include digital product, channel programs, hiring initiatives, employee branding, custom and special projects. SHEROES is also an engagement platform for brand marketers, looking to engage with urban educated women. SHEROES.in powers some of the largest diversity initiatives, channel programs and returning professionals programs.
SHEROES is expanding its footprint to go deeper into TIER 1 and 2 cities, where the need for opportunities is vast and there are no resources or help available to women.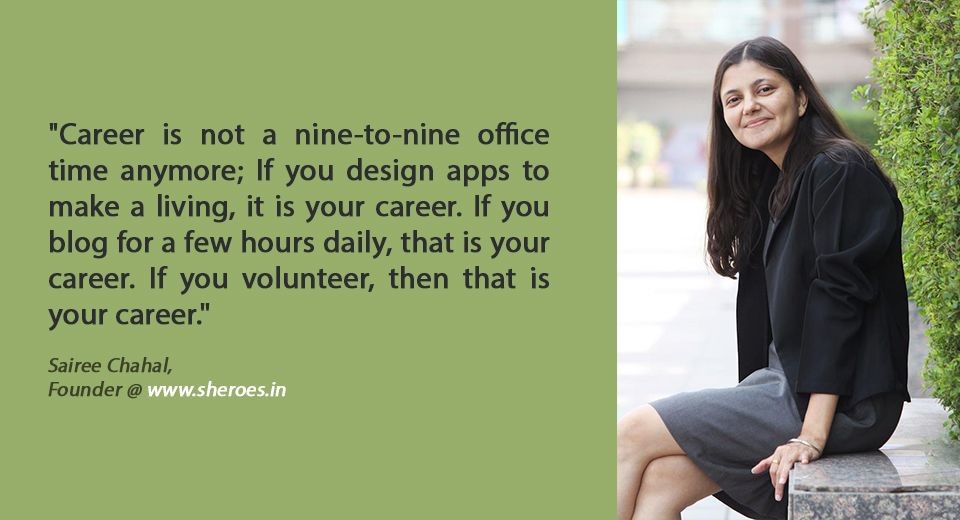 Lendbox: How did you get inspired to start Sheroes? Do you still remember the day or the moment this idea came to you?
Sairee: The idea behind SHEROES is simple, to partner every woman in India to stay on a career path of her choice and excel at it - be it that of a first time intern, work at home mom or a top corporate strategist or an entrepreneur.
India has some startling numbers, which we cannot afford to forget. We have only 17 percent women in formal GDPed workforce, only 5 percent women in leadership and our gender ranking globally is at 113 out of 136 countries. India also produces the maximum number of women graduates in the world, so there are more women who study and far less who work in formal workforce.
Almost 48 percent women drop out of work before reaching mid levels and most do not come back. The loss of financial independence and loss of GDP value is both immense. More than that, a lot of women battle with issues of identity, confidence and conscious choices. We are a complex nation - women own and run the care giving economy - babies, eldercare, weddings, big festivals, family, and the list goes. In that process, a woman's career becomes nobody's business, sometimes not even hers.
I have been an entrepreneur more than once and have also been on the corporate side story, with its own trappings of success and career ladder. However, one does realise the need to address what looks like a reducing peer group as you grow into your career. SHEROES.in was set up with the view of converting the talk about diversity into the action about diversity. We all know the figures, the data, the gender and women at work debate but how do we bring out solutions. SHEROES.in is a step in that direction. The response has been great and we are very early into this. This can only go one way - towards more and more solution oriented change with respect to the women at work.
Lendbox: Can you tell us the challenges you faced and still continue to face while operating Sheroes?
Sairee: Being able to create business alignment with what will be financial value plus social impact has been a challenge. When you are at an early stage of a category, you are written off easily. Or being a boot strapped startup with a big audacious goal is not easily acceptable. SHEROES defies many startup formulas and making way for new concepts, ideas are tough. But there have been many kind successes too!
Lendbox: Can you tell us a bit about your and Sheroes' journey till now?
Sairee: The idea of SHEROES evolved from my previous venture Fleximoms which had started as a pilot for women on career break, to identify flex work options, work from home or those who were looking for more friendly opportunities. The core of our philosophy is to help women navigate career stages and find work that fits their life. SHEROES was launched in Jan 2014 with a focus on jobs, mentorship and career community. The journey has been encouraging and challenging at the same time.
There have been several significant milestones since, including launch of the Campus SHEROES program, launch of the SHEROES Report, SHEROES community expanding to 10000 locations and creating many wins for members and corporates. Today, SHEROES.in is home to the largest selection of curated, work from home jobs in India besides other corporate and entrepreneurial opportunities.
Flexible work and work from home have traditionally been scammy categories - with too many fly by night operators or get rich quick schemes. But at SHEROES, we work hard to ensure, that these are corporate models of employment with flexible formats built in. It includes a lot of hand holding on both sides.
Lendbox: What is the message you would like to give budding women entrepreneurs and professionals in general to help them achieve their dreams?
Sairee: Stay at it. Ask for help. Reach out. talk. There is always somebody who will be able to show you the way.
Lendbox: What challenges do you think women entrepreneurs and professionals still face at the work place and in the business world and what do you think can be done to alleviate those?
Sairee: Gender issue creates a variety of challenges leading to a lack of support and infrastructure to facilitate women's mobility into leadership roles. Presence of more female mentors would help bridge the gender disparity gap, women being mentored by female role models would help them define an achievable path and grow.
Lendbox appreciates Sairee and her whole team for bringing in such an innovative concept where they unlock hidden value. Sairee is an outlier and is an inspiration to all the young ladies for going out of the way and solving a real world problem. This women's month we salute all such ladies that have impacted life of millions in one way or the other.