Story of LogiNext : An inspiration to all aspiring women entrepreneurs
Lendbox's Pink Campaign is a small initiative by the team to celebrate Women's month and appreciate every women around us who has put in extra efforts to change the face of India and the world.
Today, we cover the story of a woman who is an inspiration to 1000s of young girls out there. A woman who is creating a dent in the world and not just India. A woman who wanted to change the way in which centuries old Logistics industry would work. Todays logistics world with LogiNext is much more transparent and efficient than it was before. Lendbox team covers the story of LogiNext in a candid discussion with Manisha Raisinghani, the co-founder of the company.
Lendbox: Please tell us a bit about LogiNext , what does it aim to achieve and what is your long term goal for it?
Manisha: LogiNext has been more than a dream. It was a vision where myself and my co-founder Dhruvil Sanghvi, set-up a process of gradual transformation of mismanaged, unautomated logistics sectors to preplanned, scheduled, optimized and automated solutions. We identified a need for awareness and execution where companies could stand to save up to 20% of the Logistics Management costs by effective route planning and field workforce management. As we move towards our goal of tracking, optimizing, and automating processes to efficiently manage resources, LogiNext resets its growth targets to a much higher mark. We have been able to capitalize on our existing global markets, comprising of more than 10 countries. In the future, we wish to increase our reach to more than 100 countries. It may seem a tall task, but our determination and ambition can see LogiNext achieve the same in less than 10 years.
LogiNext wants to be synonymous with location analytics. With patented self-learning algorithms leveraging close to a billion data points across the world, LogiNext is leading the competition in accurate, comprehensive, and extensive analytics solutions. Our location analytics mechanism would set up the framework for real-time automation of the entire fleet and field workforce.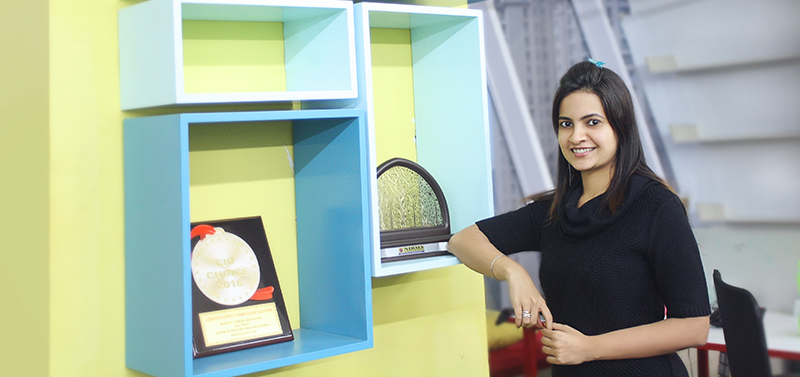 Lendbox: How did you get inspired to start LogiNext? Do you still remember the day or the moment this idea came to you?
Manisha: To say that the inspiration for LogiNext came as a single epiphany won't be correct. It has been a set of assertions with reinstating research modules that have led to the inception of LogiNext. Pursuing 'Analytics and Optimization' as a specialization at Carnegie Mellon University, I wanted to build a product that would effectively solve all tracking and streamlining challenges in logistics. Alongside Dhruvil, I invested in the idea that such a product can be put to great use in North America and South East Asia. This concept didn't leave our minds even as we became consultants with top companies such as IBM and Deloitte. We knew our product concept could revolutionize how logistics and field workforce is optimized across the world. This is how LogiNext came to exist.
The biggest points that led to the initiation of my company, would be my ability to absorb risk and channelize my fortitude towards success. There might have been moments where things didn't pan out exactly the way I thought they would, but I held my own. I believed in myself and my team. And each time, we have sailed through. Now we don't problems of such magnitude, but nevertheless, no problem is small. We tackle each issue with the same energy that we showed when we first set up operations.
Lendbox: Can you tell us the challenges you faced and still continue to face while operating LogiNext?
Manisha: Challenges have come to us as stepping stones, and that should be the case. Nothing worth having, comes easy. This is why very few companies have sustained their business past 1000 days. Challenges must be assessed and processed on priority. In the younger days of the company, the challenge was to scale from 1 to 10X. We had to establish credibility and a fellowship for our brand. The learning curve had to be extremely steep with a problem turnaround time of less than 24 hours. To do this with a limited talent resource, required dedication of the highest level. The next phase of scaling from 10X to 100X set up a whole new collection of choicest challenges. We had to compete with ourselves now, extending our own standards with each passing product upgrade. We kept going deep into our own algorithms to find out better ways to analyze and optimize data for our clients. We have achieved all-around exponential growth by pushing ourselves to exceed limits each time.
Even now, we seek out challenges as opportunities to drive innovation. To do this we figured a requirement of dedicated analytics and machine learning professionals to hasten the speed of innovation at the company. We wanted torchbearers in respective domains that could spearhead development. To achieve this, we partnered with leading Universities to recruit the cream of the crop. We then created an environment best suited to direct these professionals to reach their utmost potential of their talents.
Lendbox: Can you tell us a bit about your and LogiNext's journey till now?
Manisha: LogiNext has been a part of my identity for as long as I can remember. Before setting up my own company, I was associated with many Fortune 500 companies as a consultant. Even at Carnegie Mellon University, being surrounded by some of the best minds in the business, I knew my true calling was to develop my own vision. Problem solving is second nature to me, I automatically troubleshoot everything around me. It helps me understand my environment and react accordingly. I believe in leading by example. I am always involved with the minutest adjustments in the code. These codes, these products, and these algorithms, are my babies. I know them in-and-out. But I give my team all the freedom required to bring in disruptive changes. This has been the biggest reason why we have reached a dominating position in the world of logistics and field workforce management.
Lendbox:What is the message you would like to give budding women entrepreneurs and professionals in general to help them achieve their dreams?
Manisha: Women should back themselves to achieve their dreams. The world is changing, there are many supporters for issues of women interest. But there is still a lot to come. Until we have absolute balance in opportunities for both sexes, women should learn to back up their abilities with confidence. If you believe in yourself, others would believe in you too. Learn from your mistakes, build on your strengths, and execute your plans with gumption. The world will come to respect you, irrespective of your gender. If you consider the entire industry, such changes would take a while to come forward. However, women are now being recognized as leaders. Five years down the line, the gender equation would fix itself.
Lendbox: What challenges do you think women entrepreneurs and professionals still face at the work place and in the business world and what do you think can be done to alleviate those?
Manisha: At the work place, women are constantly climbing the corporate ladder. At the highest levels of management, there is still a lacuna of women entrepreneurs, CEOs, CTOs, or similar profiles. There is a need to break stereotypes associated with women. Women can manage their personal and professional lives efficiently. A change must come about in the mindset of more traditionally oriented business professionals. Women should be unapologetic about their commitments and ambition. Success would come through different steps of trials and challenges. One should be focused and sure or one's goals, and not be subjected to gender stereotypes. LogiNext has many key professionals who happen to be women. These women handle diverse projects right from hardcore coding, absolute quality assurance, to top-notch marketing activities. At LogiNext, we invest in intellect and abilities only. Our success, then, paints its own story.