She believed she could, so she did. This woman proved that there's nothing which can't be achieved if you have the will to do it.
It is said that women were the last creatures to be made by god. Last but not the least, it took him a while to realize that the world was missing something, something that will complete a man and in turn this universe. Probably that is why it took women centuries to un-tap their true potential and realize that they are not just here to complete a man but to have an identity of their own as well.
We would like to share the story of one such woman who gathered all her courage and stood up for her family when it was natural for anybody to lose all the faith in the world.
She starts her day when the clock strikes 5 in the morning, that's even before the sun gets up!, prepares food, cuts salad and packs everything and heads in her Scorpio car to the sector 14 market in Gurugram to sell food at her cart. Sounds a bit off, right?
We are talking about Urvashi, who owns 2 SUVs, lives in a 300 square yard house and belongs to a regular middle class family.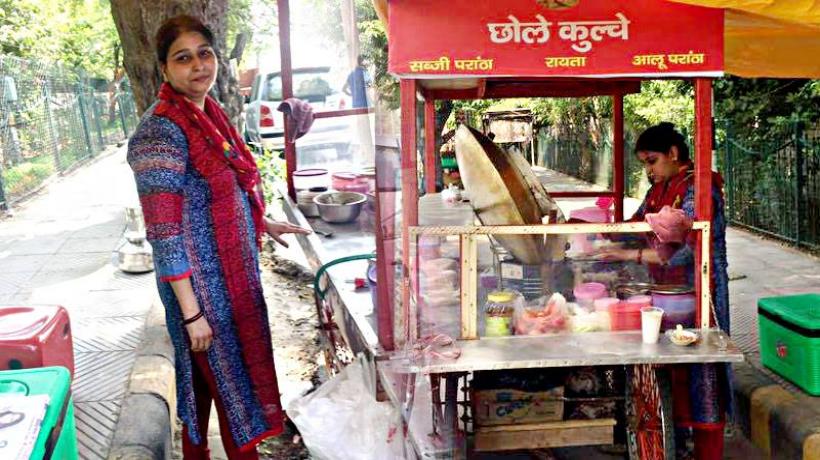 34 years old Urvashi Yadav was leading a happy life with her husband and 2 kids until the destiny turned the tables all of a sudden. Urvashi's husband got himself injured while playing cricket which seemed like a regular injury until doctors said that he has broken both of his hips and needed a surgery.
Urvashi, who was responsible for her husband, her kids, her house and her job as a school teacher, had little time to waste and cry over what had happened. She mustered all her courage, stood up and took a decision to open a food cart in a nearby local market and took charge of her family's well being.
Why a food cart? For a woman of her background, any good job or a decent business option would have been available. But she thought differently. She knew that her job won't give her enough salary to completely finance her family and a restaurant would need a lot of investment and earnings will be relatively slow. She even thought of opening a lunch service but that would've required a lot of marketing and again slow pick up was foreseen. So a street cart it was as she believes "Roads Never Sleep" and it has a lot of visibility and accessibility hence would fetch her instant customers and instant success!
She understood the cart business from a local food vendor, who she used to visit as a customer with her husband. With his guidance and an investment of Rs. 25,000, she started her own cart 9 months back.
She served everyone from a taxi driver to a watchman to a business man at her cart with same warmth and hospitality. She has become so popular in the vicinity now that she manages to sell around 120 plates of food per day as opposed to 30 plates a day when she just started.
She has come a long way; her hard work has now started paying off really well. Now, she not only manages a good and secure future for her family but also has become a role model for a lot of women.
On daily basis, she comes across women who come up to her and ask for advice and guidance. She encourages them and guides them to follow their dreams as she firmly believes that one should not stop from doing anything due to societal pressure. One has to think of her family first and not about the society.
Her husband is supportive of her initiative and she manages to take time out for her cart, her family and all the acknowledgement she gets from across the country.
We must say, she is a true inspiration for all women in our country and her caller tune also echoes her courage and journey in life "Ruk jana nahin tu kahin haar ke.."
For the whole month of March through our Pink Campaign, we at Lendbox are supporting all such women who want to start a business of their own and would at some point of time be an inspiration to all women.