What is a Credit Card Repayment Loan?
Credit Card repayment loan is a type of debt consolidation loan used to clear outstanding credit dues of a single or multiple credit cards. Credit cards while being a really helpful product can sometimes also bring a lot of unnecessary stress if used improperly.
Missing one or few re-payments of your credit card dues can lead to very a costly outcome but with a credit card repayment loan from Lendbox, you can minimize that cost by a great percentage.
How Lendbox can help you
Lendbox is a peer to peer lending platform that connects credit seeking individuals with high profile lenders. With Lendbox, you can avail a personal loan for multiple purposes including debt consolidation.
Lendbox provide loans through major banks and NBFC's as well as individual lenders. Lendbox aims to serve every creditworthy borrower. Our credit assessment is highly flexible and relies on almost 300 data points to make sure no borrower gets unfairly rejected.
Benefits of taking a personal loan from Lendbox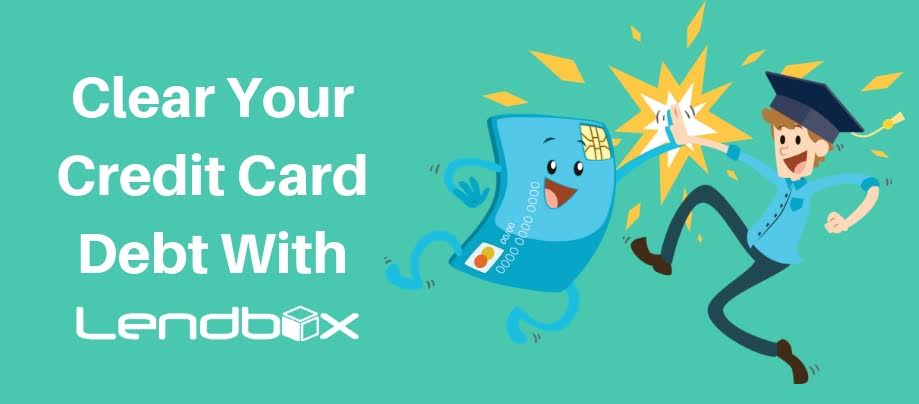 With an approval rate of 45% and interest rates starting from just 12% per annum, Lendbox has served over 50,000 within a period of one year. Apart from that, below are some of the major features that make Lendbox best place to take loan in India.
High Approval Rate
As we mentioned earlier, the approval rate for personal loan applications in Lendbox is over 45%. We have been able to serve a larger sector of people than that of banks because of our big data analytics engine and our better ability to understand customer profiles, their need, intent and ability to repay.
Low Interest Rates
Interest rate of a personal loan on Lendbox starts from 12% per annum. Not much different than banks? Well, here's the catch, there are no hidden charges. Pay small processing fees and that too only at disbursement time plus there no charges for pre-closure so you can close your loan before the loan tenure without any extra charges.
(Note: Personal loans from banks and NBFCs will have high pre closure charges as per their standards; you can find that info further below in the page)
Pan India Coverage
Lendbox operates in over 35 cities in India, which covers almost all big Tier I and Tier II cities. We can provide you a personal loan whether you're in Delhi, Bangalore, Hyderabad, Chennai, and Mumbai or anywhere else.
How To Apply For A Credit Card Repayment Loan Online
Applying for a credit card consolidation loan on Lendbox is very easy. Before applying, make sure you're eligible and have all the necessary required documents ready to upload as uploading all the documents at once will help you get an instant approval.

Now, follow these steps:-
Go to or open the https://app.lendbox.in/signup/borrower in a new tab of browser or click on this link.
Fill out all the details as per your KYC Documents
Select "Credit Card Bill Consolidation" as the loan purpose
Pay a small registration fee of Rs. 500 +GST
Upload the copies of all the required documents
Complete all the steps and you're done
After completing the process, we'll contact you with the further details.
If you're creditworthy enough to get a loan, you'll get an activation mail or a call from our representatives in a matter of minutes. Sometimes it can take up to 24 hours in activation and approval. Once activated, you can start operating on the platform.
Note: Any mismatch between filled information and KYC documents can lead to a longer time to get approved or even cancellation so make sure to upload information same as your KYC documents. Approval of a loan is a sole discretion of Lendbox.
Credit Card Repayment Loan Interest Rates
The interest rate for debt consolidation loans on Lendbox starts - from the min 11.49% p.a. and can go upto 36%, depending on the credit rating of the borrower. The credit ratings are given after the assessment of the borrower.
Lendbox looks beyond CIBIL score and salary to assess the creditworthiness of the borrowers. Our credit assessment relies on over 250 parameters and big data analytics, making sure that lenders feel safe to invest and provide personal loan to applicants.
If you have a good solid credit history and high salary then you can avail a personal loan at the lowest interest rates within few hours. Also, having small loan tenure helps you in keeping the interest amount low. Below is an example of how the interest rate affects the cost of a personal loan and its EMI's.
Example - A Personal loan for Rs. 2,00,000 at an interest rate of 12% with a repayment period of 12 months will have a monthly EMI's of Rs. 17,769 and the total payable interest amount will be Rs. 13,237. The amount you'll repay in 12 months will be Rs. 2,13,237.
You can calculate your Personal loan EMI by yourself with our EMI Calculator
Eligibility & Required Documents
Before applying for a personal loan, you need to make sure that you're eligible for it and have all the required documents so you don't get stuck after.
Different financial institutions follow different eligibility criteria, below is the eligibility criteria for Lendbox.
You must be Indian resident
Minimum eligible age is 25 years
You must have an Indian bank account
You must a valid India ID proof
Your monthly net income should be at least 25000
If you meet all the above mentioned criteria's then you are eligible enough to apply for a personal loan in Lendbox. Once you applied, you'll have to upload copies of the following documents for verification and credit assessment.
Note: Documents with (*) are mandatory.
| | |
| --- | --- |
| Photographs | One |
| Identity Proof (any one) | PAN Card*, Adhaar Card, Voter ID*, Passport |
| DOB Proof (any one) | PAN Card*, Signature verification from bank, Passport |
| Address Proof | Passport, Bank Statement, Voter ID*, Aadhar Card, Utility Bill (Electricity/Mobile/Landline), Rent Agreement |
| Bank Statement | Last 6 Months |
| Income Proof Proof (any one) | Last year ITR (Income Tax Return) or Income Declaration |
Personal Loan Processing Fees & Repayment
You can avail a personal loan at repayment tenure of min 3 months to a max 60 months. With a little registration fees of Rs.500, Lendbox gives every borrower a chance to try, Once a borrower gets fully funded, he'll have to pay a minimal 2-6% processing fees for initiating disbursement of his personal loan.
Once the loan has been disbursed, borrower will have to start paying EMI's from the next month. You'll have to pay EMI's between 1 to 10th of each month. If the borrower fails to pay any EMI by the due date, he'll have to pay a bounce charge and additional penal interest of 2% p.m. on the next payment.
There are no pre-payment or pre-closure charges, if a borrower wants to close his loan before the actual tenure, then he can do it without any additional charges.
Cancellation & Refunds
Lendbox reserves the right to disapprove or reject any application if the applicant is not suitable to get a personal loan from the platform or our financing partners. Lendbox can also terminate any approved application if any issue arises later.
In case, any applicant has paid any fees prior to activation or approval, the refund policy goes as given below.
If Lendbox terminates an account, we will refund Rs. 1000 and a credit analysis report and reasons for rejection will be provided.
If a borrower fails to get funded and decides to close the application then a refund of Rs. 500 will be made.
Have more questions? Check more Credit Card Consolidation Loan FAQ's here or send a mail to [email protected] for any particular query. You can find our contact numbers also in the footer.